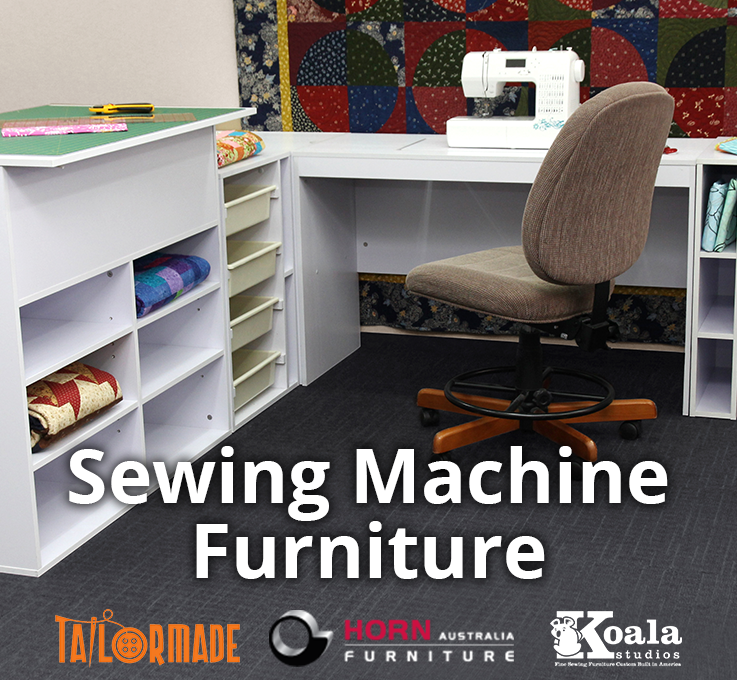 ABOUT
Hobbysew offers the best variety in Australia, for sewing machine furniture. Our sewing machine cabinet range consist of the 2 leading brands, Horn Australia, and Tailormade Cabinets. Sewing furniture is specially designed to accommodate your sewing needs and storage for the accessories that are needed when sewing and crafting. Sewing cabinets come in many different shapes and sizes to coordinate with your sewing requirements and work space availability. Hobbysew also sells chairs from Koala Studios and Horn Australia that are specially for sewing machine cabinets that are ergonomically made and have more adjustments for maximum comfort while working for long periods of time.
WHEN BUYING SEWING MACHINE FURNITURE
There are two forms that sewing machine furniture come as when bought. These are flat pack and fully assembled.

Flat Pack: A flat pack is when furniture is packaged as all individual pieces and parts that are ready to be assembled. The flat packs come in several boxes with no individual box weighing over 18kg so they are easily manageable. Ideal for places that have lots of stairs.

Fully Assembled: As the name suggests, fully assembled is when the sewing furniture is delivered already put together. Please note: When buying fully assembled cabinets there are possible freight issues. In many regional locations around Australia, it is not cost effective to ship fully assembled sewing machine cabinets.
TYPES OF SEWING MACHINE FURNITURE
If you would like to find out more information about sewing machine furniture please contact us