Janome 1008 Mechanical Sewing Machine
Product information
+ Bonuses Worth $59.90!
| | |
| --- | --- |
| Double-sided bobbin box with 50pcs of bobbins. | Machine Dust Cover (N4191.LAVE). |

The Janome 1008 is a fantastic buy for the price and is durable enough for heavy users. Also, it is an ideal beginner's machine.
Ideal Beginners Machine - Yes
Stitches - 8 Stitches + Buttonhole
Buttonholes - 4 Step Buttonhole
Internal Frame - Internal die-cast Aluminium Frame
Clip-on Feet - 6
Easy Threading - Yes
Spool Pins - Retractable spool pins x 2
Free Arm for Sleeves - Yes
Bobbin System - Front loading bobbin
Stitch Length - Stitch length adjustment
Free Arm – Yes
Key features: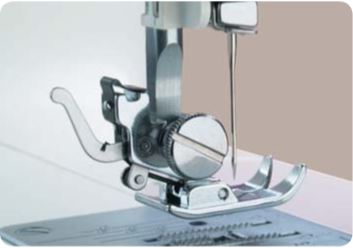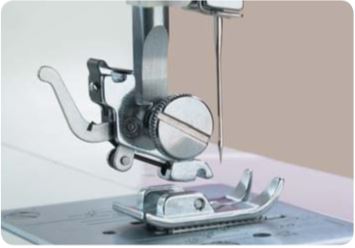 Quick and Easy Foot Conversion
Remove the foot with ease by pressing the lever and lower the presser foot lifter to snap back into place. It's that simple.

Convertible Free Arm
The sewing table can easily be detached to reveal the free arm.
Very useful for cuffs, sleeves and projects that require circular work.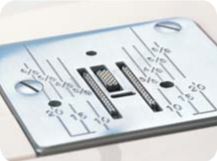 Needle Plate Guide Lines
A dual seam guidelines with both inches and millimetres on the needle plate for more accuracy when sewing.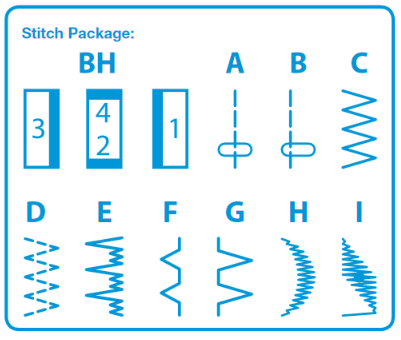 Quilting:

Garment Construction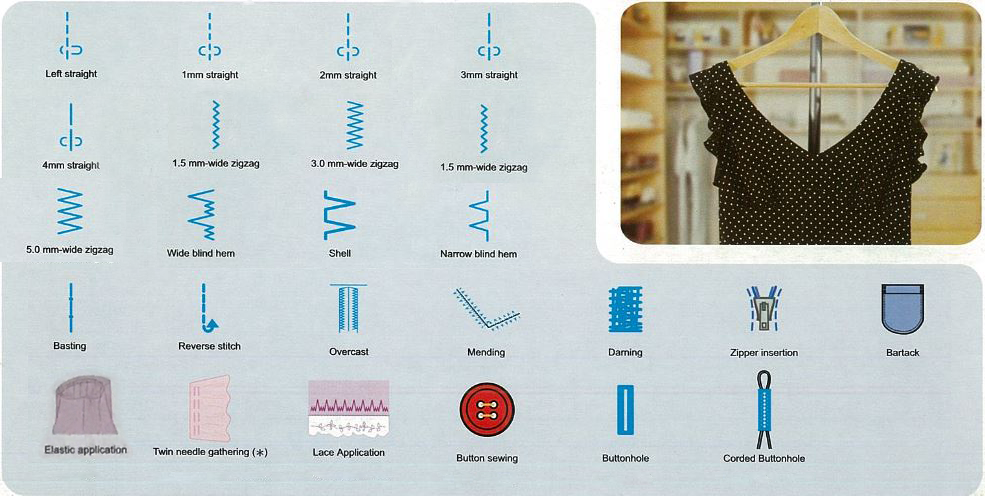 Heirloom

Home Deco

---
Standard Accessories:
Code No. - Name - Description
820-832-005 - Screwdriver (large)
741814003 - Oil
647-808-009 - Seam ripper (buttonhole opener) -
102261000 - Bobbin
540401026 - Needle Set
611413002 - Sliding buttonhole foot
611406002 - Zipper foot
200-129-002 - Satin Stitch Foot - For sewing dense zigzag stitching. The bottom of the foot is bevelled for smooth delivery of thread when sewing decorative or satin stitches. The foot is made of clear plastic making it easier to view stitching.
200-132-008 - Overedge Foot - Use with an overcasting stitch to allow the thread to wrap around the edge of the fabric to prevent unravelling. The foot guides the fabric and keeps your edges flat by compensating for the lack of friction when the needle makes the right-most stitch.
42970103 - Foot control
743812203 - Dust Cover
Click on the brochure below for more information.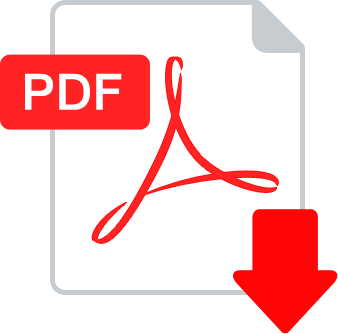 ---
Optional Accessories:
| | | |
| --- | --- | --- |
| Code No. | Name | Description |
| 102-261-103 | Specialised Bobbin | Designed for Memory Craft embroidery and computerised models. Rubber added to the clear resin improves performance and reduces noise. Imprinted with letter 'J.' |
| 200-126-009 | 3-Way Cording Foot | The 3-way cording foot will hold one, two or three fine cords or threads. Because they are attached to the foot, the required design can be easily followed and the cords are perfectly placed. A variety of utility or decorative stitches can be sewn over the cords to couch them onto base fabrics. The choice of cord, thread and stitch are all contributory factors to the final effect. |
| 200-127-000 | Darning Foot (Regular) | Sometimes referred to as the embroidery foot, the darning foot is used for 'free hand' embroidery and darning to ensure proper stitch formation, minimise skipped stitches and puckering and also protect your fingers while you move your fabric freely under the needle. Especially beneficial to those just learning how to do free hand embroidery. The open toe version greatly improves the visibility of stitches and is especially popular with quilters. |
| 200-131-007 | Button Sewing Foot | Quick and easy button sewing with the special button sewing foot. This foot has two bars that attach to the foot shank to provide extra stability and also has a textured, rubber sleeve to hold the button securely in place while sewing. |
| 200-140-009 | Binder Foot | The binder foot is used to apply pre-folded bias binding tape or bias tape you have cut yourself to the edge of fabric in one easy step. It is equipped with a small funnel to fold and guide the binding over the fabric edge before it reaches the needle and can be used with either zigzag or decorative stitches as well as a straight stitch. 10 mm to 14 mm bias tape can be used. |
| 200-141-000 | Ultra Glide Foot | The ultra glide foot is moulded from a special resin allowing easier sewing of fabrics that may otherwise stick to the standard metal foot such as ultra suede, faux leather and plastic. |
| 200-142-001 | Roller Foot | As its name suggests this foot has rollers that roll against the fabric and act very much like the track on a bulldozer for sewing up and over heavy seams and uneven surfaces. Ideal for sewing heavy fabrics the rollers move freely between the foot and the feed dogs so that the foot rides easily over varying thicknesses. Also used to sew sticky leathers and vinyl. |
| 200-328-003 | Pintucking Foot – Shallow Grooved | The pin tucking foot is used with a 2 mm twin needle to create multiple rows of pintucks. The grooves on the underside of the foot make it easy to stitch several rows parallel and evenly spaced from each other. |
| 532-504-003 | Bobbin Case – Household Sewing | Front and side-loading machines require a separate bobbin case which also acts to control the bobbin tension. Although not generally recommended, more advanced sewists like to adjust the lower tension to accommodate special threads, such as when using a hand-wound bobbin of thicker decorative thread. You can avoid tricky tension adjustments afterwards by having an extra bobbin case on hand specially adjusted for thicker or thinner threads. |
| 941-800-000 | Concealed Zipper Foot | Good quality ready to wear garments will often have an invisible zip fitted. These zippers are often neglected by the home dressmaker which is a pity because they can ensure success every time. Invisible zips are suitable for all fabrics from fine silk jersey through to suit weight wools and tweeds. The key is to get the needle as close to the fastener as possible, which this foot accomplishes by slightly unrolling the zipper just before the needle. Once fitted, a well sewn invisible zipper will merely look like part of the seam. |
| 306800049 | Instruction Book | |
| 200-130-006 | Blind Hem Foot | Blind hemming can sometimes be a little bit tricky so the blind hem foot goes some way to helping improve this technique. The foot has a metal guide in the centre and three grooves on the underside. During blind hemming, the fold of the fabric fits snugly against the guide in the foot for accuracy while the grooves underneath help to prevent unnecessary slipping. The needle swings over the metal guide creating slack in the upper tension so that the pick of the stitch is almost invisible. |
| 674401002 | Blind Hem Guide | |
Note: Images used are for illustrative purposes only.
---
HOBBYSEW GUARANTEE AND MANUFACTURER'S WARRANTY:

Your guarantee
A refund, exchange or credit may apply if goods*:
Are proven faulty
Have been wrongly described
Different from what was advertised
Receipt as proof of purchase must be provided.
For more read the comprehensive Terms and Conditions.
Please choose carefully as we do not give refunds for:
Change of mind
Make a wrong decision
*Excludes all software and patterns due to copyright.
Delivery
Free Delivery
$9.95 Flat Rate for all orders under $250* to anywhere in Australia.
This item cannot be delivered to PO Boxes
This item cannot be delivered to the following areas:
SA Regional: 5701
TAS: 7151
WA Remote: 6740, 6743
NOTE: Please provide a residential or work postal address as we do not ship to PO Boxes. If you are located in a remote area, please provide an alternative shipping address within the nearest town centre as a signature is required on delivery.
Please note, all deliveries from Hobbysew will require a signature upon delivery.
In case of Furniture, there may be a variation on freight pricing due to the location. We will call to confirm once order is received.

*Excludes Koala Studios Furniture and Tailormade Furniture.  
For more information, please contact us on (02) 9621 4000 (Head Office) or emails us here.
IMPORTANT NOTICE: We deliver to AUSTRALIAN addresses only (No PO Boxes*). No international shipping and delivery. Apologies for the inconvenience.
*Exceptions apply depending on location such as very remote areas and mining sites.