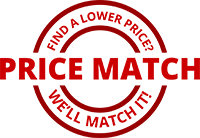 Hobbysew checks regularly for price comparison to ensure that we match or better any other offers. But in case we miss one, Hobbysew will match a competitors offer, plus add a FREE GIFT, for you efforts.
If you see a product that we stock on a competitor's website we will match the price providing it meets the following criteria:
Item must be in stock in our store at time of purchase.
Item is sold by an a reputable company, both online or instore. (Final price including freight).
The Competitor must have a Retail Store.
Price comparisons must include all delivery charges and bonus offers.
Product must be identical (e.g. same brand/model/colour).
Confirmation of competitor's advertised price is required. i.e. catalogue, newspaper advertising.
Competitor must be in stock (not available for back orders).
No bulk purchase, retail quantities only.
Excludes competitor's clearance lines, limited stock offers, price errors or Member/Club/Internet prices.
The competitor must be in the same metro or town area as the requested price match.
The price must not be below our cost price.
Take action on (02) 9621 4000 or send us a message through our contact page.