Melba
with Leesa Chandler | Exclusive Hobbysew Workshop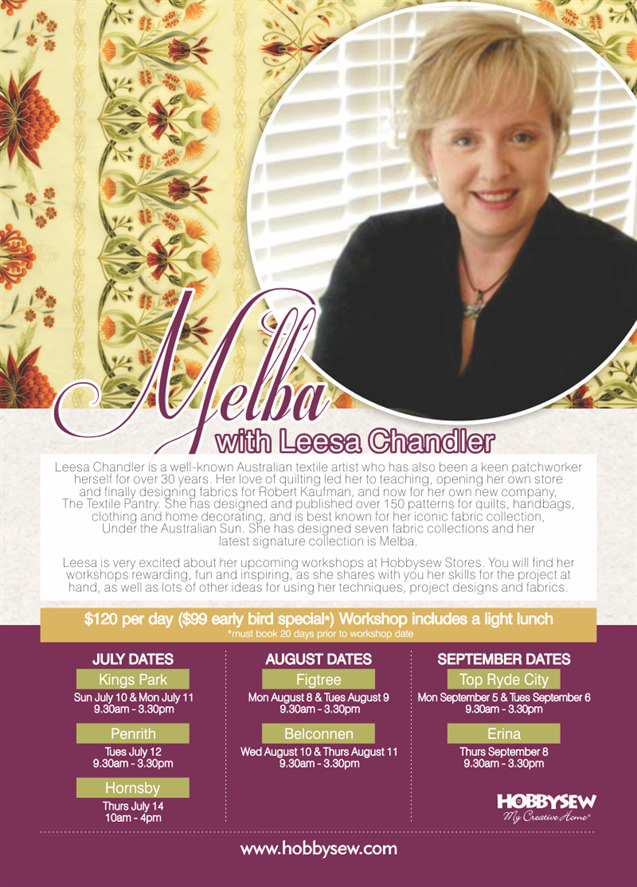 Leesa Chandler is a well-known Australian textile artist who has also been a keen patchworker herself for over 30 years. Her love of quilting led her to teaching, opening her own store and finally designing fabrics for Robert Kaufman, and now for her own new company, The Textile Pantry. She has designed and published over 150 patterns for quilts, handbags, clothing and home decorating, and is best known for her iconic fabric collection, Under the Australian Sun. She has designed seven fabric collections and her latest signature collection is Melba.
Leesa is very excited about her upcoming workshops at Hobbysew Stores. You will find her workshops rewarding, fun and inspiring, as she shares with you her skills for the project at hand, as well as lots of other ideas for using her techniques, project designs and fabrics.
DATES:
JULY DATES

AUGUST DATES

SEPTEMBER DATES

Kings Park
Figtree
Top Ryde City

Sun July 10
& Mon July 11
9.30am - 3.30pm

Mon August 8
& Tues August 9
9.30am - 3.30pm

Mon September 5
& Tues September 6
9.30am - 3.30pm

Penrith
Belconnen
Erina

Tues July 12
9.30am - 3.30pm

Wed August 10
& Thurs August 11
9.30am - 3.30pm

Thurs September 8
9.30am - 3.30pm

Hornsby
 
 

Thurs July 14
10am - 4pm

 
 
PRICING:
$120 per day ($99 early bird special*)
Workshop includes a light lunch
*must book 20 days prior to workshop date.