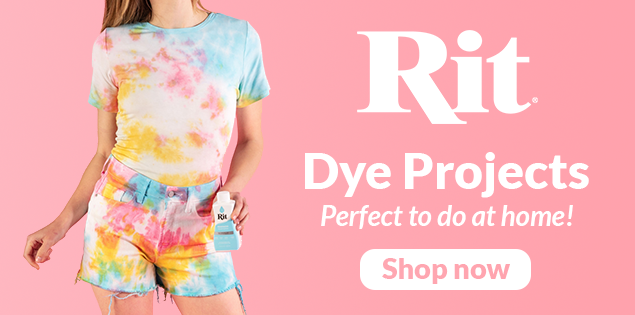 What is Rit Dye?
Rit fabric dye is the world's leading dye for quality and ease of use and has been since the early 1900's. Our dyes are available in both powder and liquid form and can be used in hundreds of ways.
A tried and true classic that's been dyeing your goods new and old for over 100 years. Our All-Purpose Dye is here to add a bit of dazzle to washable natural fabrics like cotton, wool, and silk. A simple, non-toxic way to bring the colour of your choice to garments, household items, and more.
With so many diverse synthetic fabrics on the market, we thought it was high time to offer a dye capable of taking those very fabrics to the next level. That's why we're proud to introduce Rit DyeMore, a dye specially made for synthetic fabrics like polyester, polyester cotton blends, acrylic, and acetate. And like our All-Purpose formula, DyeMore is non-toxic and perfect for use in the home.
What can I dye?
Rit Dye provides the ability to dye natural fabrics and synthetic fabrics such as:
Cotton
Wool
Silk
Nylon
Rayon
And more!
Rit Dye Projects
Click the projects below to explore the world of Rit Dye!
Where do I start?
Follow these simple steps to start dyeing your favourite fabrics with Rit All-Purpose Dye at home today.

~~~~~
Hobbysew - My creative home
*Conditions apply, contact us for more details or see in-store for details.