ABOUT
Klasse is a high quality range of machine needles, offering the best in machine quality.

FEATURES
Made to the German GSN standards which are the highest in the world
Uses the latest integrated technology
Made to a higher degree of hardness and tempering to protect the sewing machine

MACHINE NEEDLE RANGE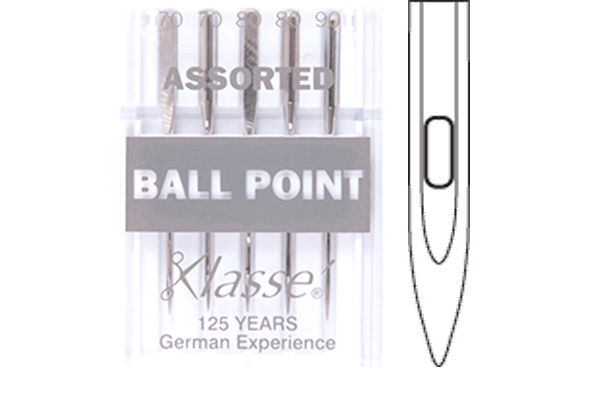 Ball Point
The Ball Point tip is more rounded and is intended to push the fabric fibres apart rather than cutting them. This avoids the knit fabric laddering or running after stitching. Threads such as polyester or polyester/cotton blends are best for this needle range. Ball Point is perfect for cotton knits, interlock, rib knits, fleece, double knit, and so most knit fabrics.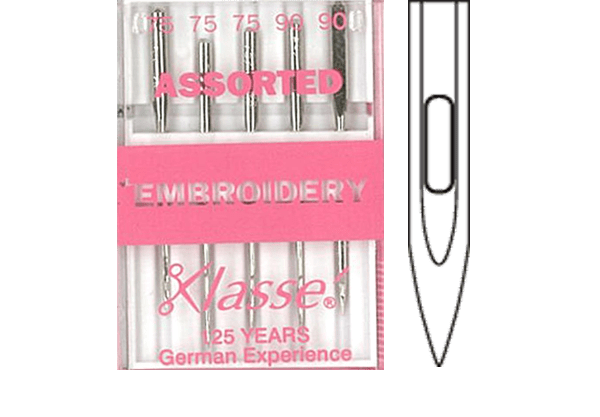 Embroidery
The Embroidery needle is specially created for machine embroidery using Rayon, Polyester or Cotton machine embroidery threads. The needle features a wider hole to allow the thread to pass freely. It also has a pontoon scarf with oversize bump to reduce the chance of skipped stitches which can occur when fabric is flexing up and down with the fast moving embroidery stitch.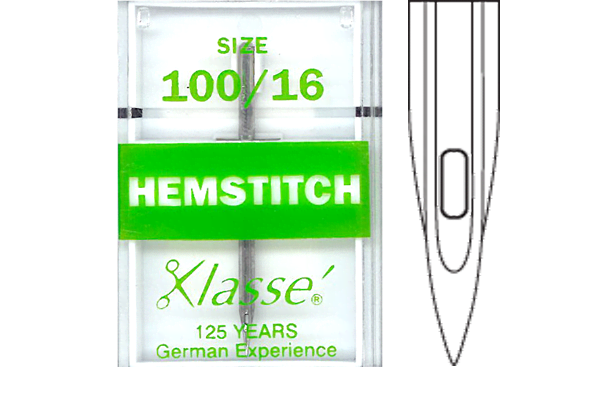 Hemstitch
The single "wing" blade on the side of this needle cuts a narrow hole in the fabric, creating the popular heirloom-style decorative stitching.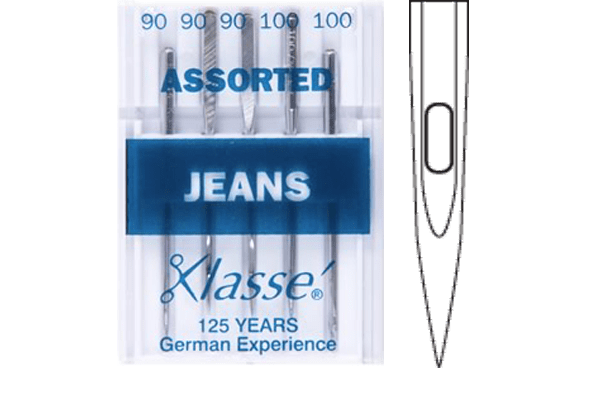 Jeans
The Jeans needle is formed with a very sharp point and a harder shank to resist needle deflection and allow penetration of dense fabric. Threads range from synthetic or blends, cotton wrapped polyester, 100% polyester and heavier topstitching threads. Ideally suited for denim fabrics, heavy twill, workwear, and other densely woven fabrics such as canvas and heavy linens.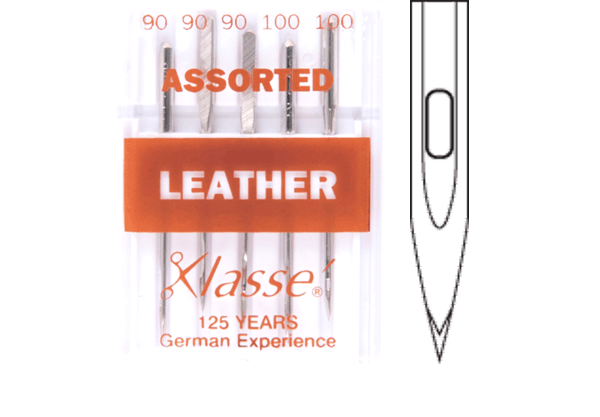 Leather
The Leather needle has a cutting point and is used for sewing genuine leather, suedes and difficult to sew projects. It is often referred to as a chisel point needle as the point resembles and acts as a chisel in motion. Do not use with ultra-suede, synthetic suede or PU imitation leather.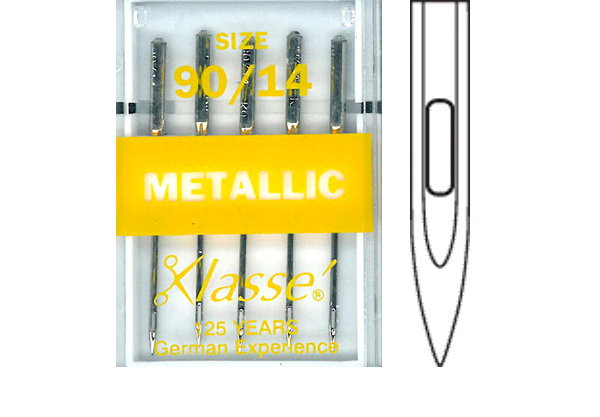 Metallic
The Metallic Needle is produced with a very large eye, permitting the threads to feed freely as you sew without splitting, burring or shredding. This needle is also suitable for general purpose sewing, giving the added advantage of being easier to thread. Best for sewing and embroidery with Rayon and metallic threads on woven or knitted fabrics.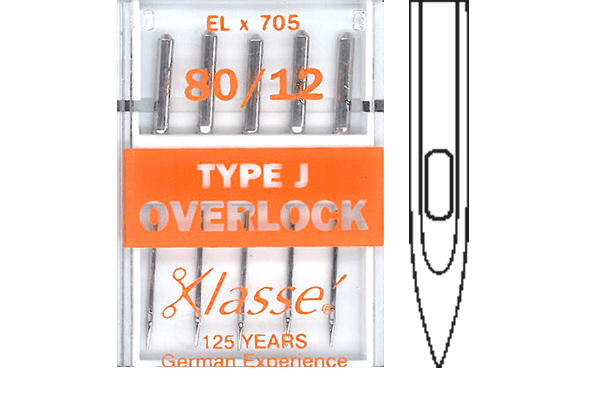 Overlock
Klasse' produces five different system needles which suit 99% of all Overlockers/Sergers as well as a simplified selection for those that use the same needle system as domestic sewing machines.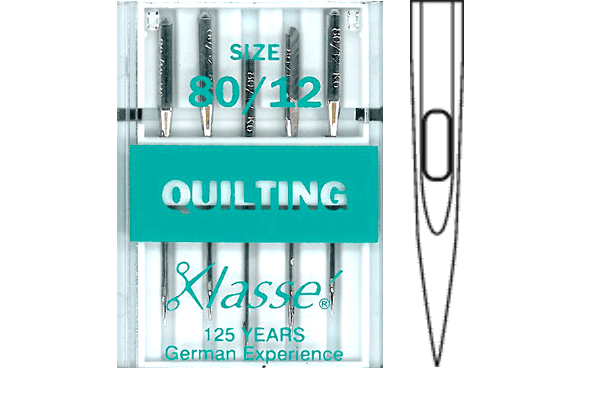 Quilting
The Quilting needle has a strengthened longer shaft that helps to reduce needle rebounds as the needle penetrates multiple layers of fabric while maintaining a perfectly straight stitch. It is ideal for piercing and quilting layers of cotton fabrics and batting.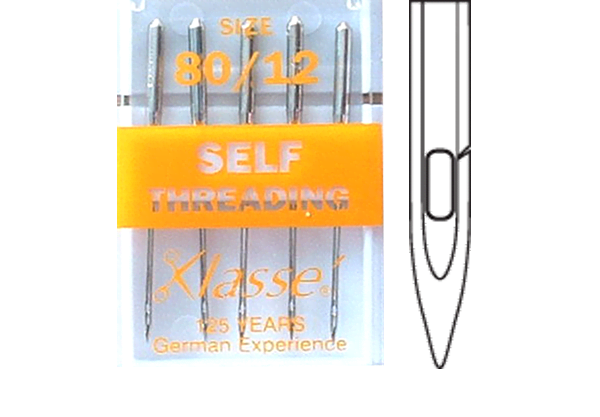 Self-Threading
For sewers with thread-handling and/or vision challenges. Simply draw thread across small opening at side of the eye to thread. Available only is Universal point.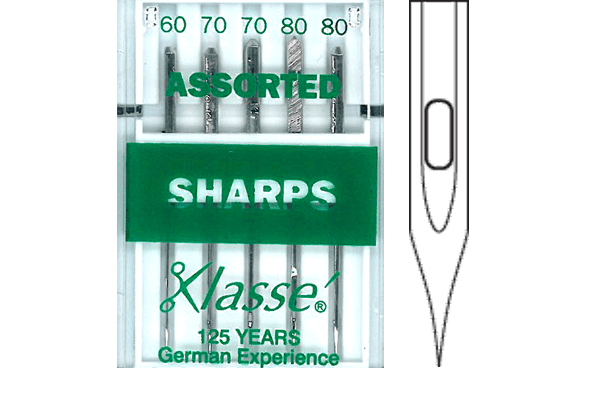 Sharps
The Sharps needle utilises a strengthened shaft that helps to reduce needle deflections as the needle penetrates multiple layers of fabric. The sharp point also produces smooth buttonholes. Made specifically for silks, micro fiber fabrics and for penetrating densely woven fabrics. Also ideal for piercing and quilting layers of cotton fabrics with batting.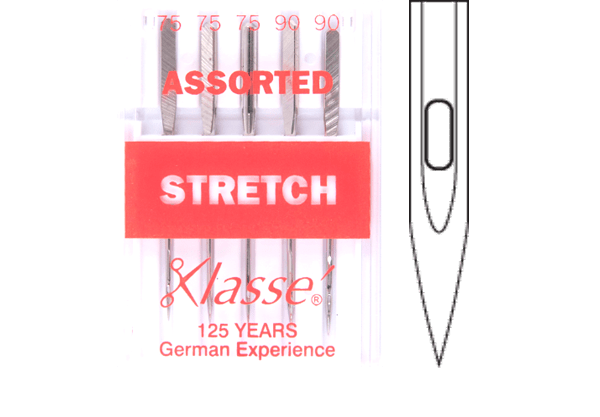 Stretch
The Stretch needle has a distinctively designed scarf which prevents skipped stitched. Threads are usually polyester or cotton wrapped polyester. Designed especially for two way stretch knits, lycra, power net, silk jersey, spandex and highly elasticised synthetic fabrics, also ideal for sewing elastic.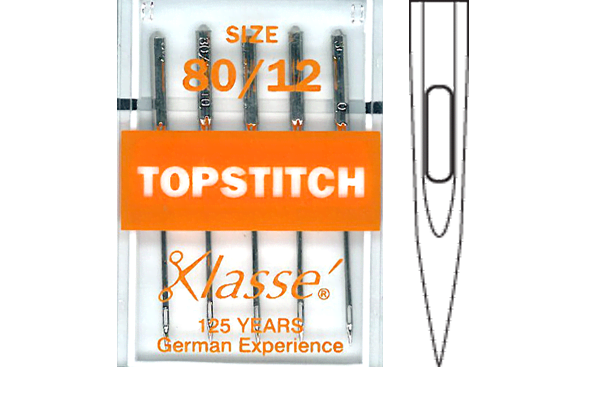 Top Stitch
The Top Stitch needle has an extra-large eye to accommodate thick topstitching thread. Extra sharp point allows needle to penetrate easily through all fabrics.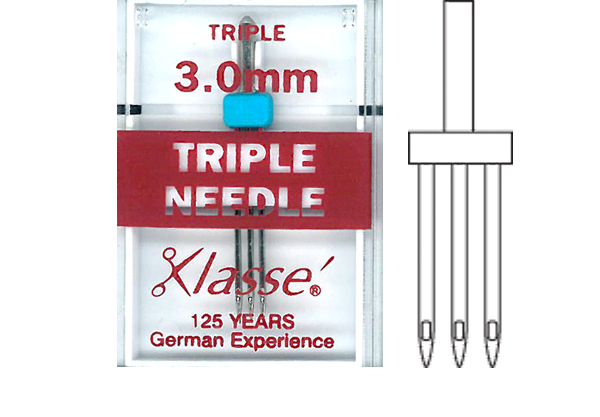 Triple
Triple needles is used for heirloom sewing and decorative topstitching. Size indicates distance between needles. The needles are fixed in a nylon block and should be used at slower speeds and not for prolonged periods.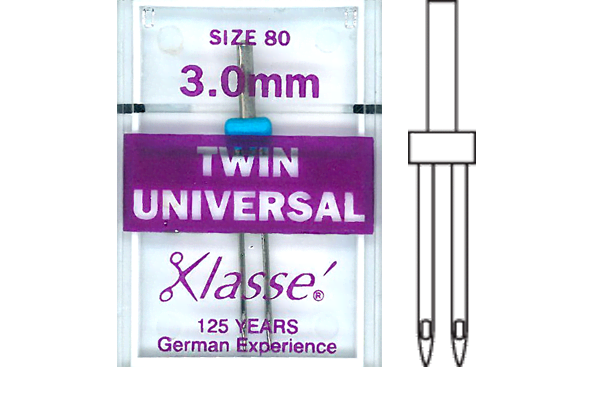 Twin
Twin needles are used for practical and decorative sewing such as pintucks, seam finishes and topstitching. The size of the needle is measured from tip to tip (2mm needle has a 2mm space between the points). Available in many types and sizes which includes Universal, Ball Point, Embroidery, Jeans, Metallic and Stretch.
Universal
The Universal Needle has a slight ball point making it extremely versatile. It works well on most machines and is the most commonly used needle for synthetic woven and natural fibres. The finer needles are normally used on lightweight fabrics and the larger sized needles for medium to heavyweight fabrics. Appropriate to be used with polyester / cotton or silk threads. Ideal for most woven fabrics, some knits and synthetics.
If you would like to know more please contact us