ABOUT
Iron - An iron is used to remove wrinkles and creases from garments.

Steam Press - An appliance that utilises two pressing plates where you place the item of clothing in between the two plates. A press has an ironing bed similar to a short ironing board with a handle attached to the top pressing plate. When lowered unto the fabric, it presses, taking out wrinkles and setting in desired pleats. It cuts down considerably on ironing time, especially when it comes to large flat items. Using a steam press can sometimes eliminate having to take garments for dry cleaning, because it can be used on more delicate fabrics or to freshen a blazer.


FEATURES
Steam & dry ironing
Non-stick soleplate
Dual heat settings
Comfort grip handle
Ergonomic
IRONS & STEAM PRESSES RANGE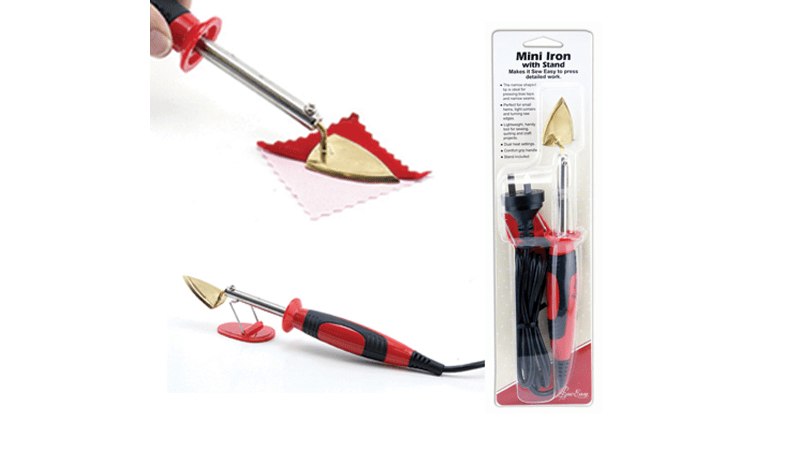 Sew Easy Mini Iron with Stand - Red
The narrow shaped tip is ideal for pressing bias tape and narrow seams and is perfect for small hems, tight corners and turning raw edges. It is a lightweight, handy tool for sewing, quilting and craft projects. There is a dual heat setting, a comfort grip handle and also includes a stand. The heat tip is 5cm long and 3cm wide at the widest point. The total length of the iron is 28cm.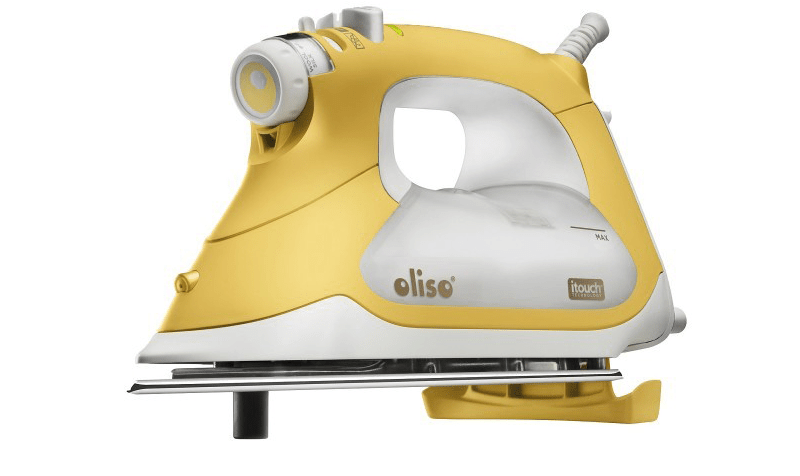 Oliso® Pro™ Smart Iron
Featuring Oliso's patented iTouch® technology, simply touch the handle and the iron lowers, ready to work. Take your hand off and the patented scorch-guards lift the iron off the board preventing scorches, burns, and tipping. Less strain and 30% time savings are added benefits to this Smart Iron's 1800 watts of power and horizontal or vertical bursts of steam. It has a 30-minute extended auto-shut off for sewers and quilters, a 12.7 oz side fill tank, a beadblast stainless steel soleplate, flat pressing surface, and detailer tip.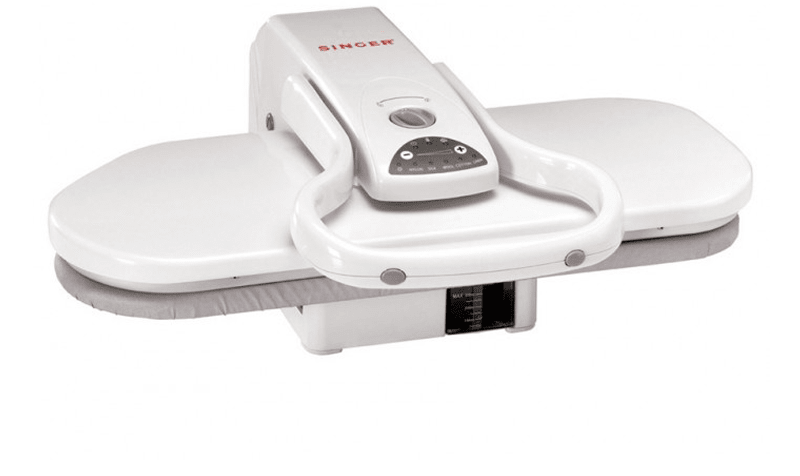 Singer ESP-2 Iron Press
The SINGER Magic Steam Press gives you professional pressing results right at home. With a large pressing area and adjustable heat and steam settings you can quickly press tablecloths, curtains, dress pants and more. This portable unit is easy to store and includes auto shut-off with an audible alarm for safety. The Iron Press comes with 45kg pressure and adjustable steam. It includes auto shut-off with an audible alarm for safety.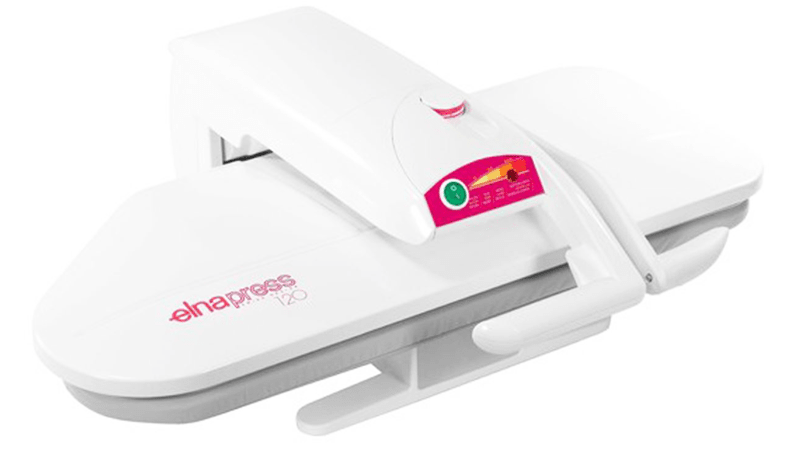 Elna Press EP120
The Elna Press 120 offers all the pleasure of quick, professional quality ironing. It has the same ironing capacity as the bigger models, at a very attractive price. With the Elna Press, you really save time (up to 50% of the usual ironing time). And you can sit down and iron your clothes comfortably at any table. It can be easily stored in a cupboard. It's easy, quick and convenient.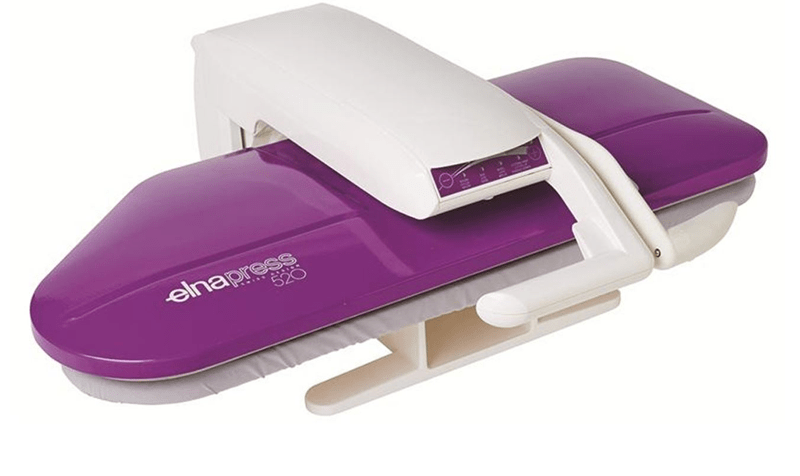 Elna Press EP520
The Elna Press 520 features the latest technology - the vapojet system, integrated light and Peraluman heating shoe. The average consumption of the machine is 600-800 W with electronical temperature control and a control panel for temperature adjustment. There are built-in lights and an automatic pressure of 45 kg. It is easy to transport and to store. It requires practically no maintenance (stick cleaner and change of base cover), which ensures an exceptional life span.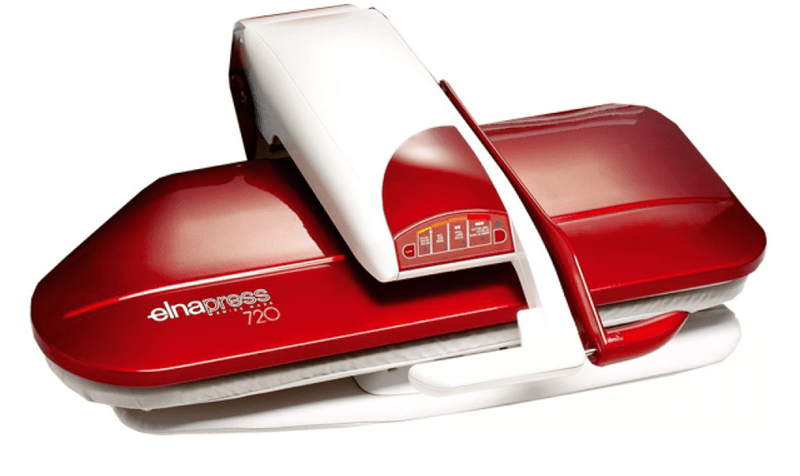 Elna Press EP720
The Elna Press 720 is the top of range model and represents the ultimate ironing experience, comfort and quality with all accessories included (vapojet system, integrated sleeve board, etc). The ironing board is 11 layers of Finnish birch wood where the heating shoe is made of nonstick material. It consumes very little energy: just 600 to 800 watts, significantly less than a regular iron or a central steam system. That means triple savings for you: time, energy and money.

If you would like to know more please contact us.