Top Ryde City
Australia's largest Quilting, Patchwork store, with largest range of Fabric, Accessories, the Ultimate Furniture studios displays, and in-store Craft Cafe, overlooking the piazza.
Opened on the 2nd of April 2011, Hobbysew Top Ryde City is located in the impressive Top Ryde City Shopping Centre. We are on level two shop MM20 facing into the car park near the Myers entrance from the car park on level 2.
Hobbysew Top Ryde City is one of the leading retailers of sewing and embroidery machine from Janome, Bernina, Brother, Husqvarna, Elna, and Singer. Our Teachers: Marea Drayton, Irene Andrews, Deborah Louie, Anne Sommerland, Monica Poole, Helen Godden, Lyall Willis, Val Moore, Chris Jurd to name but a few.
We also have the latest fabric and accessories from leading brands such as Hemline, Sew Easy, Triumph, Klasse, Habeesavers, Quilt Club, Bowtique, Celebrate, Classic Knit, Koala Yarn, Krafty Savers, Metro, Sew Tasty, Papercraft, QA threads, Sew Easy Sashiko, Sew Sweet, Tailormade, Triple S fabrics, Unitrim, Addi, Au Ver au Soie, Bergere, Bohin, Brother, Daylight, Diamond Dotz, Fiskars, Gutermann, Helmar, Furniture, Madeira, Mill Hill, Mundial, Naturalight, Ottlite, Pony, Rasant, Seam Fix, Tsukineko and more!
Layby Accepted Please click here for details.
Diamond Dotz framing solutions at Hobbysew Top Ryde.
Hobbysew Top Ryde is offering a Custom Craft Framing solution for most Crafts.
Do your self-Frames Hobbysew has a huge range of Frames, custom for Diamond Dotz. It is so easy! Check out the video. You can Frame you master Piece in Minutes.
These Frames also great for many similar crafts. With Double bevel thick matt boards, and wooden frame. This is the ideal solutions, for Craft framing, Diamond Dot Framing, Cross Stitch Framing and more.
Custom Framing your masterpiece requires a quality finish. If you require something more special or is an odd size. Hobbysew is a craft framing company that understand what is required to complete your craft project.
Our quality workmanship is designed for:
Diamond Dotz Framing
Embroidery Framing
Cross Stitch Framing
Quilt Framing
Diamond Painting Framing
Customer Photo Framing
Diamond Dots Framing
Framing Diamond Dotz and More at Hobbysew Top Ryde.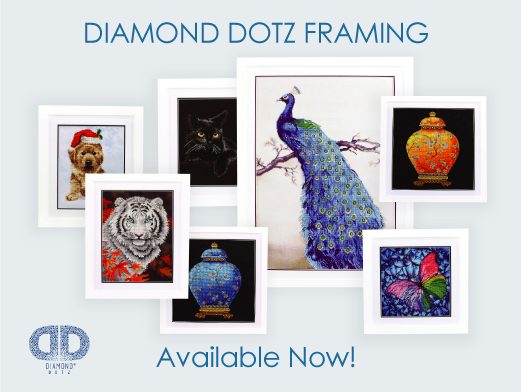 We provide a great range of services including:
Fabric by the metre: Huge range of fabrics from leading designers.
Sewing Furniture and Cabinets
Embroidery Service
We stock a huge range of brands
Location and parking
Top Ryde City Shopping Centre - Level 2, Shop MM20 (For easy and direct access, enter via the Pope Street Carpark Entrance - Via Smith Street)