Poplin
Fabric - Basic all purpose fabric

Poplin is a word used to describe a type of material in which the warp weave was silk and the weft weave was wool.
The typical style for a poplin weave is one where the weft and warp fibres go over and then one under, making this a strong fabric (please see image below for example).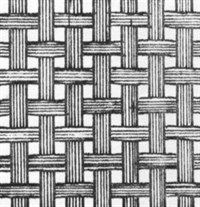 The term poplin comes from a French word "papelaine" which was a fabric made from silk in the 15th century reserved for the Pope. This fabric being heavier and therefore more appropriate for cooler climates.
Poplin is now made with a mixture of cotton, wool, silk, rayon and polyester. These mixtures allow for a lighter but stronger weave which is more appropriate for the Australian weather. This is why Poplin is a favourite for shirts, pyjama's, women's wear, sportswear, bedding, curtains and other home furnishings. Poly Poplin is easy to handle, lovely to sew and is machine washable in cold water, and machine dryable. Poly Poplin is a wrinkle resistant soft fabric with beautiful draping qualities, often not requiring ironing at all.
Our Poplin is manufactured using 80% Cotton and 20% Polyester, available in a large range of colours to suit any project.
Click here to view our entire range: