ABOUT
Freezer Paper has one side that of a wax texture which adheres to fabric when ironed. This makes it a perfect tool for appliqué and creating templates.
APPLICATIONS
Templates
Tracing
Non-slip stencils
Line drawers and shelves
Personalise and create designs
Useful as a base layer when painting or using wet materials
FREEZER PAPER SELECTION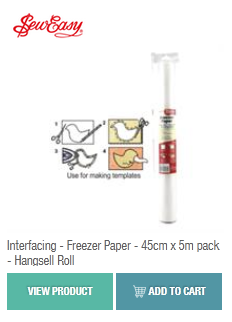 Freezer Paper 5m Roll
Sew Easy
High quality freezer paper from Sew Easy
45cm Width x

5 metres

Thicker Backing Paper
Plastic coated
Food grade
Use for hobby, quilting, art and craft applications

If you would like to know more please contact us.