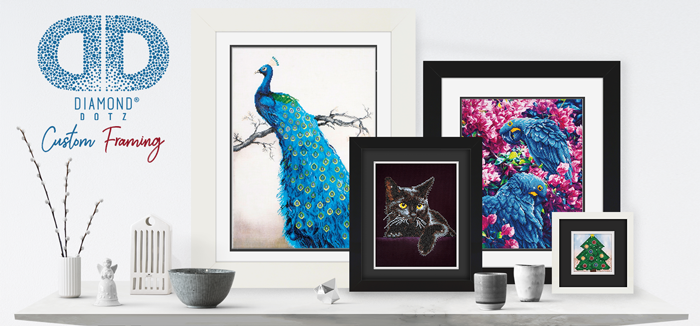 ABOUT
A picture frame is a decorative moulded edging for a painting, prints, photographs, needlework and Diamond Dotz. A frame will enhance and protect your intended framing piece. When you select the correct frame and mount board (matboard), this will make your picture standout. The right combination of frame and mount board, does compliment the design and adds new dimension.

Our frames are hand made in Australia from imported materials and assembles from a variety of timbers and compounds. Our frame quality is premium grade and the molding is cut on a precision 45B0 angle, to ensure that each corner cut matches and comes together in a seamless right angle.

Our mount boards are acid free and computer precision cut with a beveled edge. We go that step further to add brilliant depth to out mount board, by added an extra layer of mount boards, so every frame has a double mount board. When you have the correct proportions of frame and mount board with its darker bottom layer, helps to draw the eye to the detail in the picture. This is a key element to enhancing the focal point of any framed work.

We also have available extra double matboards made, to offer separately, the range offers fixability of mix and match.
Please note: We do not provide the glass for our frames, for shipping and safety reasons. Each frame is manufacture with enough space to accommodate glass. If you require glass your local framer can cut to order.
*Disclaimer: Please be advised normal delivery of Diamond Dotz frames can take up to 4 weeks with expected extended delays during the unfortunate circumstances of COVID-19. We apologise for any inconvenience.
HOW TO FIND THE FRAME FOR YOUR DIAMOND DOTZ


You can search for a frame for your Diamond Dotz by either series or design size. You can find this information on your Diamond Dotz design.
SERIES Is a code next to your design name which starts with DD.
DESIGN SIZE This is also know as the design size.


HOW TO FRAME YOUR DIAMOND DOTZ