Koala Studios Sew & Quilting Comfort Chair XL - Deluxe
Product information

Sew Comfort Chair XL
Customize your chair to suit your studio and personality. Choose from 4 different colour fabrics and 2 base finishes (more colours coming soon). A great value for money with ergonomic design and comfort the chair is known for.

Approximate height: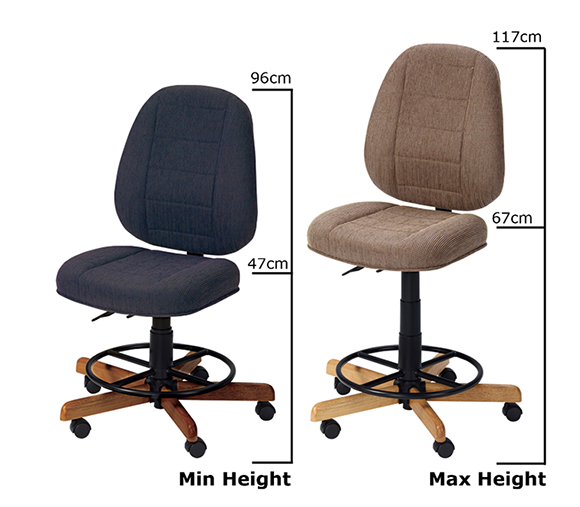 Fabric colours:
Base finish:
Asian Golden Teak
American Birdseye Maple
Note: Images used are for illustrative purposes only.
For other base finishes to suit your Koala Furniture, please contact us on (02) 9831 2111 or email us at enquiries@hobbysew.com.au

Your guarantee
A refund, exchange or credit may apply if goods*:
Are proven faulty
Have been wrongly described
Different from what was advertised
Receipt as proof of purchase must be provided.
For more read the comprehensive Terms and Conditions.
Please choose carefully as we do not give refunds for:
Change of mind
Make a wrong decision
*Excludes all software and patterns due to copyright.
Delivery
Please note: There may be a variation on freight pricing due to location. We will call to confirm once order is received.
Freight rates vary depending on the delivery location, please enter your delivery postcode during checkout to calculate freight cost.
For larger fully assembled cabinets, shipping rates are based on 2 man delivery door to door for Sydney metro only.
For all other areas, shipping rates are calculated to your nearest depot for holding. You will need to arrange for final pickup/delivery from the designated depot. We will provide you with the relevant details.
We recommend you check the availability of furniture items prior to placing your order.
Delivery turnaround for furniture in stock = 2 Weeks
Delivery turnaround for furniture out of stock = TBA, order will be placed into next available container.
Pick-up is also available from our Sydney warehouse if you wish to arrange your own freight and insurance, please contact us on (02) 9831 2111 or emails us at enquiries@hobbysew.com.au for more information.
Reviews
Electra 13rd Jan 2018

Castle Hill, NSW


Received this chair as a christmas present and its outstanding. Its well built, solid and was very easy to put together. Wheels around easy and the cushioning is thick. Extremely happy with this product and you can tell it will have longevity because of the build quality.
The chair goes slow enough so i can sit comfortably whilst behind the machine and also high enough to sit at my craft table (craft table height is 970mm)
Definitely will recommend this product to my sewing friends.





Julie Cooney 5th Apr 2015

Laguna NSW


Best chair! Love mine. I have lower back issues and I can sew for hours without any lower back pain at all. I love this chair so much I convinced my boss to buy them for everyone in our office....





Sonia 21st Mar 2015

Windsor


Great chair did a class at Kings Park. Told my Husband I would like on. One day. He rang the staff they helped him to surprise me. Awesome now have spoke so highly of the chair two friends have no brought one. You can sew for hours. No back ache !
Also use it a my work bench and my short legs have somewhere to rest on the bar. Chair and Staff were great help thanks.






Delma Cooke 22nd Apr 2014

Toowoomba, QUEENSLAND.


Arrived quickly, easy to put together. I have a bad back and this chair is so comfortable for me. Communication with this company was polite and helpful. I would recommend this chair and this company to all.




More reviews